The subject of the project at Tadeks Fertig Haus is the implementation of an innovative product (patent pending), developed as a result of R&D works with the participation of product institutes. It is a prefabricated external wall made in the technology of a wooden frame, containing a special layer made of dried clay lining and a clay plaster with an embedded heating system overlaid on it. In total, the clay accumulation layer is 85 mm thick. This provides additional, much greater than the previously achieved accumulation of heat and moisture, desirable features from the point of view of energy-efficient construction. Our production line has been adapted to streamline, optimize the planned technological process and enable the production of heavy prefabricated wooden elements covered with a clay layer. As part of the project, through the purchase of fixed assets, solutions in the form of process, product and non-technological innovation will be implemented.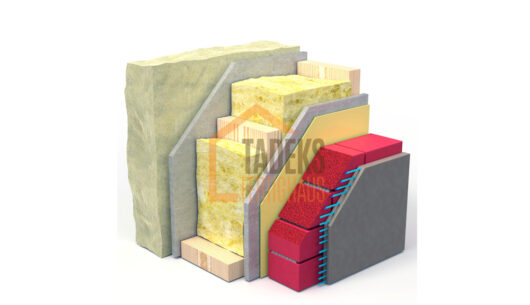 The numerous advantages of raw clay clearly support the popularization of the use of this material in modern, sustainable construction, in addition, when using it in our highly energy-efficient wooden structure, we finally get a product that ensures diffusion openness of the wall and represents additional advantages:
Clay regulates air humidity – it can quickly absorb moisture and release it. This contributes to a healthy indoor climate.

Clay stores heat – just like other heavy building materials. In this way, it contributes to an improvement in the indoor climate and, with the passive use of the sun, also to significant energy savings.         
Clay saves energy and reduces environmental pollution – unlike many other building materials (e.g. baked brick or concrete), very little energy is needed to prepare and process clay. Thus, the use of clay in construction causes minimal environmental pollution.        
Clay is reusable – unfired, raw clay can be reused successfully. It does not litter the environment as debris. It is enough to crush it and wet it with water to obtain a full-value building material.        
Clay is economical as a building material – it allows you to reduce transport costs, as it can often be excavated directly on the construction site while digging the foundations or purchased at a nearby brickyard.      
Clay has properties that absorb harmful substances – mainly sulfur and phosphorus compounds. It also offers protection against high frequency radiation.