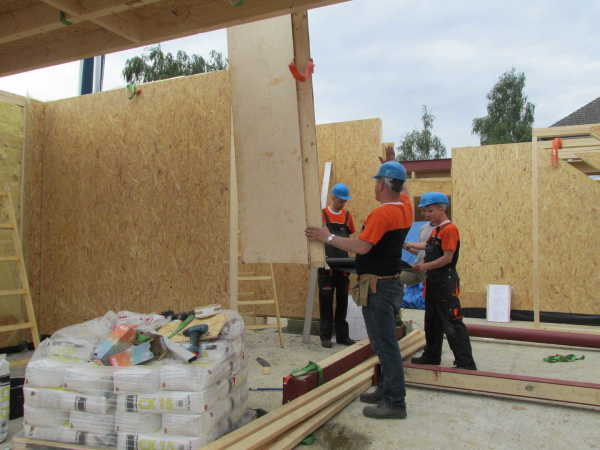 Prefabricated houses, also known as ready-made or modular houses – these are houses for modern times! It is an innovative solution on the Polish wooden construction market, imported from Scandinavian countries and the West, where it is invariably highly appreciated and recognizable construction technology. The prefabricated timber frame is currently one of the most modern and at the same time the most popular technologies of erecting houses. The individual elements of the building are implemented on the basis of a design in dry conditions, in a properly equipped production hall made of excellent quality materials, when alter the elements are transported to their destination and finally assembled in a very short time on site with a use of a crane.

The basic principle of this technology, in contrast to traditional brick houses, is the unparalleled high quality and precision of components and the air tightness of connections of individual layers. Thanks to the extraordinary precision, the technology of prefabricated houses allows for the construction of excellent quality energy-efficient houses, passive houses, as well as zero-energy houses with a lower (than in the case of traditional technologies) financial and time expenditure. The walls of the prefabricated house have a timber frame structure, but it should be remembered that they are characterized by a more massive body than light Canadian houses due to their larger cross-sections, and the two-sided construction sheathing of all external and internal walls with a suitable wood-based panel.

Prefabricated houses: advantages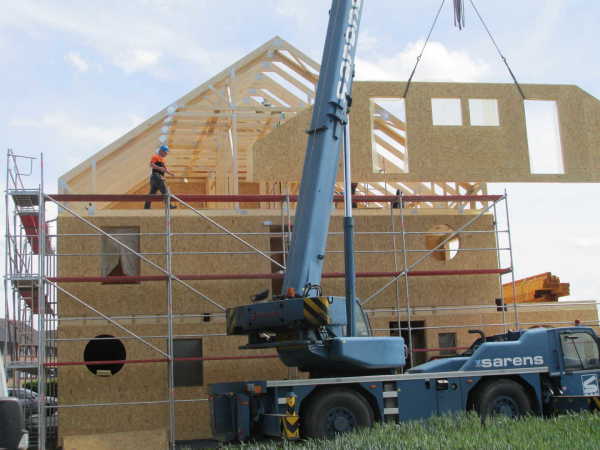 Ready-made prefabricated houses are the perfect solution for all those who value complete freedom in design, the highest quality, and a short construction time. The technology of wooden frame construction is, contrary to appearances, very demanding, and its only disadvantage may be incompetent contractors. By choosing our company, you decide on professionalism and the highest qualifications gained in the course of many years of experience. We carry out our works with the greatest care, which is why the Tadeks Fertig Haus projects meet the highest European and world standards providing investors with affordable luxury.

Prefabricated houses: two systems of prefabrication
Open prefabrication – is a system for building frame houses from prefabricated elements. In open prefabrication, elements of external walls are prefabricated, including a wooden wall structure covered with a wood-based panel. The roof structure can also be prefabricated. In the open prefabrication system, after assembling the wall and roof structure with the sheathing, other construction works are performed on the construction site – thermal insulation assembly, assembly of a vapor barrier foil and internal covering sheets and subsequent works. 
Closed prefabrication – is a more advanced system for building frame houses. In this system, all building elements are made completely in the factory and preliminary facade works are performed. Houses erected by a closed prefabrication system are called ready-made houses. The assembly of the house takes several days.