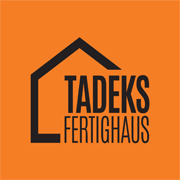 Our company offers a CNC numerical processing service for roof trusses, gazebos, roofs, elements of external architecture and other wooden elements (prefabricated structure) in accordance with the project or concept sent by the client. The offer is addressed to carpenters and investors who appreciate the quality and precision of wooden elements. The implementation of prefabricated elements significantly increases work efficiency and the time needed for assembly decreases dramatically. Thanks to this, you don't have to process wooden elements on site, which is associated with many days of processing and fitting. Our ready-made elements should be placed in the right places (numbered) in accordance with the project prepared by us and secured with carpentry fasteners and screws. We work on our material (our stocks have over 50m3 of construction timber) or on the material entrusted by the client.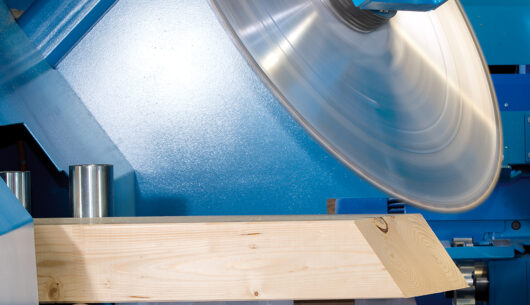 Processing technology on a CNC numerical machine manufactured in 2021 ensures precise preparation of the roof truss and timber frame elements in accordance with the traditional art of carpentry – without the need to purchase specialized tools and spend hundreds of hours drawing and fitting materials. Including shifting and moving heavy wooden beams around the construction site.
For the delivered wooden structure, we are able to:    
prepare chamfers in the rafters to be placed on the wall panel,   

sockets and pivots or complex structures with swords and supports,   

dovetail elements,   

basket and corner rafters, including ball beams,   

drilling for rafter locks,   

decorative heads ending rafters,   

trimming, drilling, milling, fracturing, marking and labeling,   

and many others,
Our CNC machine Speed ​​Cut 3 from Hundegger is mainly designed for fast and precise trimming as well as for processing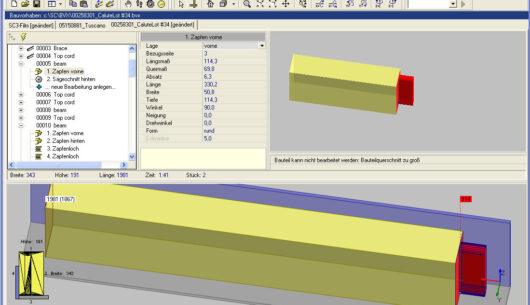 (drilling, milling, fracturing, marking, labeling) of simple wooden elements. In trimming truss elements or wooden frame elements, it achieves a hitherto unattainable speed with full flexibility and precision. You can process wood sections from 20 x 40 mm to 200 x 450 mm at any length. The machine is equipped with two independently operating transport systems, which enables extremely fast wood processing and therefore very short positioning times without the need for retooling or setting up.
---
The procedure for ordering a truss or prefabricated elements to be made on our CNC machine:    
send the projection of the roof truss and the attic or plans of a prefabricated structure,   

send attached cross section,


describing the location of the investment and the planned date, 
Please send information to our email address: biuro@tadeks.pl or contact our hotline (34) 388 20 06